Brownfields Pilot Program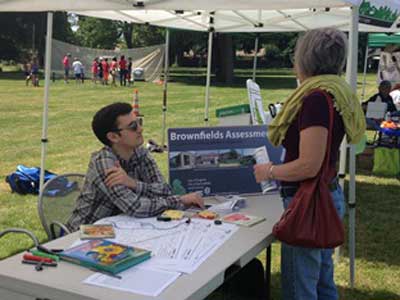 A Coalition of jurisdictions (the Cities of Eugene, Springfield and Lane County) came together and applied to the Environmental Protection Agency for funding of a Brownfields Community-Wide Inventory and Assessment Grant. Successfully receiving the grant enabled the three jurisdictions to form more accurate understanding of brownfields in their community and collect information regarding the opportunities and challenges confronting regional plans for development infill. Moreover, comprehensive public record review of target areas, community outreach in neighborhoods most affected by brownfields, and "triple-bottom line ranking" of properties were achieved thanks to LLC leverage and the Equity and Opportunity Assessment.
Work on the project began in Fall of 2012. The project seeks to assist property owners, developers, and potential purchasers in taking brownfield properties and responsibly returning them to productive uses as quickly as possible. The project has three primary phases: inventory of potential brownfields sites, community outreach, and environmental site assessments.
For more information about the project watch the video below, read more on the Brownfields Coalition website or contact the Brownfields Coalition.




http://www.youtube.com/watch?feature=player_embedded&v=s5oote6WlVw