Outreach to Latino Community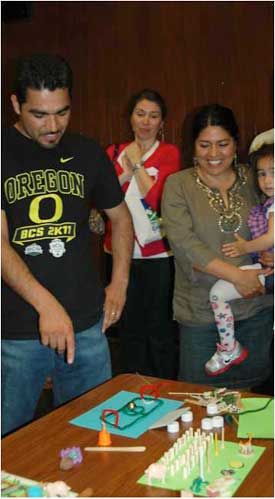 The Latino population in Lane County is diverse and expanding. By being sensitive to the diversity that exists within the Latino community, it is possible to effectively include Latinos in planning and development efforts because outreach can be based on models that acknowledge the area's sociopolitical climate. Application of unique public participation tools and techniques can effectively be used in outreaching to this population who represent one of the most marginalized groups in Lane County, Oregon.
The Latino Participatory Research Project, led by University of Oregon Professor Gerardo Sandoval in partnership with Sightline Institute, was completed in the Spring of 2013. The project developed best practices and test outreach strategies to reach the Latino community and identified economic and social indicators of importance to the Latino community through outreach and participation with the Latino community. The project utilized a wide range of methods including individual interviews with Latino leaders and immigrants, small focus groups, and two interactive community planning workshops that engaged almost 100 people. Two local community-based organizations that serve the Latino Community, Huerto de la Familia and Downtown Languages, helped organize and recruit participants for the community workshops. Unique and valuable resources developed during the project below are linked below, and should be used for all efforts to connect with and better understand this unique community in Lane County:
View the Latino Public Participation and Community Indicators Project (PDF - University of Oregon, 2013)
(Gerardo Sandoval, et al. , University of Oregon) More about Professor Sandoval's research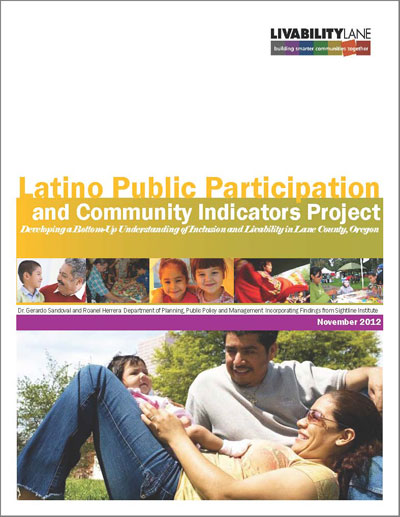 Latinos in Lane County: A Profile with Indicators of Community Wellbeing (2013)
(Prepared by Sightline Institute)
For those looking to strengthen outreach to, or simply wanting to know more about this unique community, refer to this helpful list of contacts within the Latino Community in the region: Latino Community Key Contacts (Excel format)
placeit.org PLACE IT! Was used in the recent Latino outreach effort, and is a design-based urban planning initiative that uses model-building workshops and on-site interactive models to help engage the public in the planning and design process. Learn more by checking out their website.
City of Eugene Resources: The City of Eugene has been working on improving outreach to and involvement with the Latino Community.  The resources below are a "snap shot" in time and include information on language access (with Spanish being the primary spoken language), demographics of the Latino Community by neighborhood, and some contact information for Latino serving organizations in our community. 
Framework for Language Access Planning
2011 Neighborhood Analysis (See Section: People – Race and Ethnicity)
Public Participation Guidelines (See Appendix D Community Contacts, Pges 3 – 4)
For more information on City of Eugene Resources, please contact Lorna Flormoe with Human Rights & Neighborhood Involvement at the City of Eugene's City Manager's Office

An additional resource is the Integration Network for Immigrants of Lane County (IN).
For more information, please contact Bob Bussel (541-346-2784).