Community Health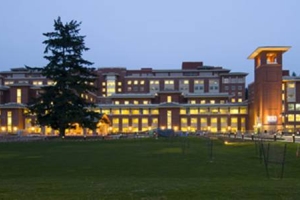 Lane County's Public Health Authority follows national and state mandates in achieving community health outcomes including the 10 Essential Services outlined in the Center for Disease Control's (CDC) National Public Health Performance Standards Program (NPHPSP). Additional federal mandates require planning agencies to address transportation and housing concerns related to community health. The Patient Protection and Affordable Care Act of 2010 will enhance federal direction across local prevention and community health efforts.
Oregon's local public health authorities operate under intergovernmental agreements regulated by the Oregon Health Authority (OHA). These agreements allow local health authorities to receive state categorical funds to meet specific federal and state mandates. The OHA then ensures compliance with NPHPSP's 10 Essential Services through Oregon Revised Statutes and Oregon Administrative Rules. In an effort to more holistically address community health determinants, the Oregon Health Policy Board (OHPB) created the Oregon Health Improvement Plan (HIP). This document guides evidence-based interventions, systems and environmental approaches to ensure the overall health of all Oregonians. Lane County Public Health is adding to the body of local plans through the creation of a local Community Health Improvement Plan (CHIP). The local community health improvement plan and agency specific strategic plans will complement the Lane County Public Health Comprehensive Plan by adding more data and time sensitive and specific goals and objectives.
Oregon House Bill 3650 and Senate Bill 1580 (2011) called for the creation of Coordinated Care Organizations (CCO). CCOs are health entities that will deliver health care and coverage for people eligible for the Oregon Health Plan (Medicaid) including those covered by Medicare.
Overview of Community Health in the Region
Detailed Core Area Report of Community Health Policy in Lane County
| Community Health Related Plans | Summary | Full Document |
| --- | --- | --- |
| Action Communities for Health, Innovation, and Environmental Change (ACHIEVE) | | Link |
| Lane Coalition for Healthy Active Youth Strategic Plan | | PDF |
| Human Services Plan for Lane County | PDF | PDF |
| Lane County Mental Health and Addictions Implementation Plan | | PDF |
| Lane Coordinated Public Transit-Human Services Transportation Plan | PDF | PDF |
| Lane County Public Health Authority Comprehensive Plan | PDF | PDF |
| National Prevention Strategy | PDF | PDF |
| Oregon Health Improvement Plan | PDF | PDF |
Community Health Organizations in the Region