Regional Data Catalog
One significant task of the Regional Data Catalog conducted by the Regional Data Advisory Committee, was the development of a data framework and inventory. In addition to providing an overview of the data that is held and maintained within the region, an inventory also becomes a central tool in the evaluation of (or ability to evaluate) what data gaps exist.
The Regional Data Catalog is viewed by the advisory committee as a critical resource for staff to better understand data availability at both an agency/organizational and thematic level. The fundamental concept was to provide a resource that would incline local staff to make more and perhaps better data connections in their work. The Regional Data Catalog has two primary components: Data Category Summaries and Key Data Sources Summaries. Both resources are intended to be updated and iterative.
The Regional Advisory Committee developed twelve key data categories using a data framework established by Sustainability Tools for Assessing & Rating Communities (STARS) as a starting place.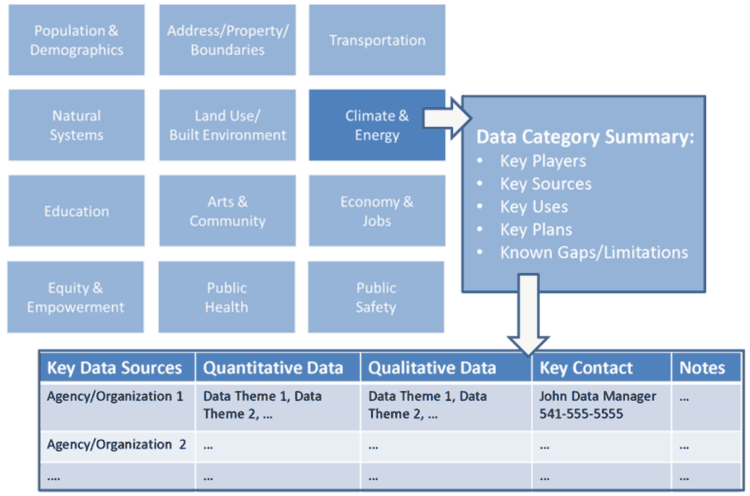 The Key Data Sources Summary sheets are intended to be the primary resource that connects those seeking data to those who have it (or may be able to direct them further).
Data Category Summaries were developed for each category presenting a narrative description of the category including key uses, key players, and key data sets.