Other Relevant Plans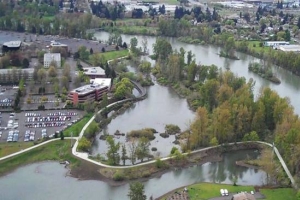 Planning at the regional level involves complex issues that require the coordination of multiple jurisdictions across topic areas. There are numerous plans and policies that guide these various planning areas. These issues include land use, parks and recreation, natural resources, agriculture, communications, solid waste management, energy and water. In the Eugene- Springfield Metro area, the Springfield Utility Board (SUB) and the Eugene Water and Electric Board (EWEB) are the two main utility providers. These companies use plans to guide their work. Storm water infrastructure falls under the jurisdiction of individual municipalities.
Parks, recreation and open space play a valuable role in the region's identity and quality of life. While the City of Eugene and the City of Springfield (Willamalane Park and Recreation District) have separate parks and recreation planning departments, the Rivers to Ridges Parks and Open Space Vision provides a plan for regional open space planning.
Historically, agriculture and natural resources have played a significant role in the region's economy. To ensure that these resources remain for future generations; various state, county and city plans have been created. These plans specifically address wetlands, climate change, natural hazard mitigation, and rural comprehensive plans.
| Other Relevant Plans, Goals and Legislation in the Region | Full Document |
| --- | --- |
| Community Climate and Energy Action Plan for Eugene | PDF |
| Eugene Parks, Recreation and Open Space Comprehensive Plan (PROS) | Link |
| Eugene-Springfield Multi-Jurisdictional Natural Hazards Mitigation Plan | Link |
| Eugene Storm water Basin Master Plan | Links |
| Eugene Comprehensive Storm water Management Plan | PDF |
| West Eugene Wetlands Plan | PDF |
| EWEB Drinking Water Source Protection Plan | PDF |
| EWEB Energy Conservation Resource Strategy | PDF |
| EWEB 2011 Integrated Electric Resource Plan (IERP) | PDF |
| Lane County Natural Hazards Mitigation Plan | PDF |
| Lane County Parks Master Plan | PDF |
| Willamalane Park and Recreation Comprehensive Plan | PDF |
| Lane County Rural Comprehensive Plan | PDF |
| Lane County Strategic Plan 2012-2017 | PDF |
| Central Lane MPO Public Participation Plan | PDF |
| Central Lane MPO Unified Planning Work Program | PDF |
| Willamette River Open Space Vision and Action Plan | PDF |
| Oregon's Integrated Water Resources Strategy | Link |
| Ridgeline Area Open Space Vision and Action Plan | PDF |
| Rivers to Ridges Metropolitan Regional Parks and Open Space Vision | PDF |
| MWMC Facilities Plan for the Eugene-Springfield Regional Wastewater Treatment Facilities | PDF |
| Springfield Storm water Facilities Master Plan | PDF |
| Springfield Storm water Management Plan | Link |
| HB 2001 | PDF |
| HB 3337 (ORS 197.304) | PDF |
| Regional Transportation Options Plan (RTOP) | Link |
| SB 1059 | PDF |
| Oregon Statewide Planning Goals(OAR 660-015-0000) | Link |
| Metro Plan | PDF |
| Metro Plan Appendices | PDF |