Community and Regional Plans
Plans collect and analyze community needs and data, identify community goals, establish key policies, and prioritize use of resources. A Baseline Assessment of city and regional planning documents for the Eugene-Springfield metropolitan area was conducted by the Community Planning Workshop (CPW) at the University of Oregon. Through a collaborative effort with the Lane Livability Consortium the Core Areas of economic development, community health, housing, and transportation were evaluated. These core areas were selected for their overall alignment with the goals of the Lane Livability Consortium. Within each of the core areas below you will find links to related plans, helpful summaries of those plans and a detailed report of the current planning context for each core area.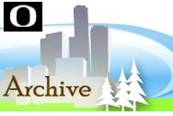 Access a wealth of regional plans, reports and documents (including those linked in this toolkit (and many others) through the University of Oregon Library's Oregon
Local & Regional Documents Archive
.